For those who are open to innovate to get a competetive edge based on three pillars of growth, converging revenue, people & happiness and transformation.
We inspire, activate and help organizations realizing growth and happiness for their people based on commercial togetherness to accelerate recurring revenue, bring purpose into practice and to become better every day.
Let's play the game differently; serving the market through togetherness. Will you join us in this movement?
Wheel of growth & happiness
We are IF Associates, a true player of your team when it comes to rapidly growing your business. As your associate, we guide you how and where to grow.
Based on the IF analysis, we advise what parts of the wheel are crucial to realize your growth ambitions.
Your growth & happiness = our success.
IF Wheel of Growth & Happiness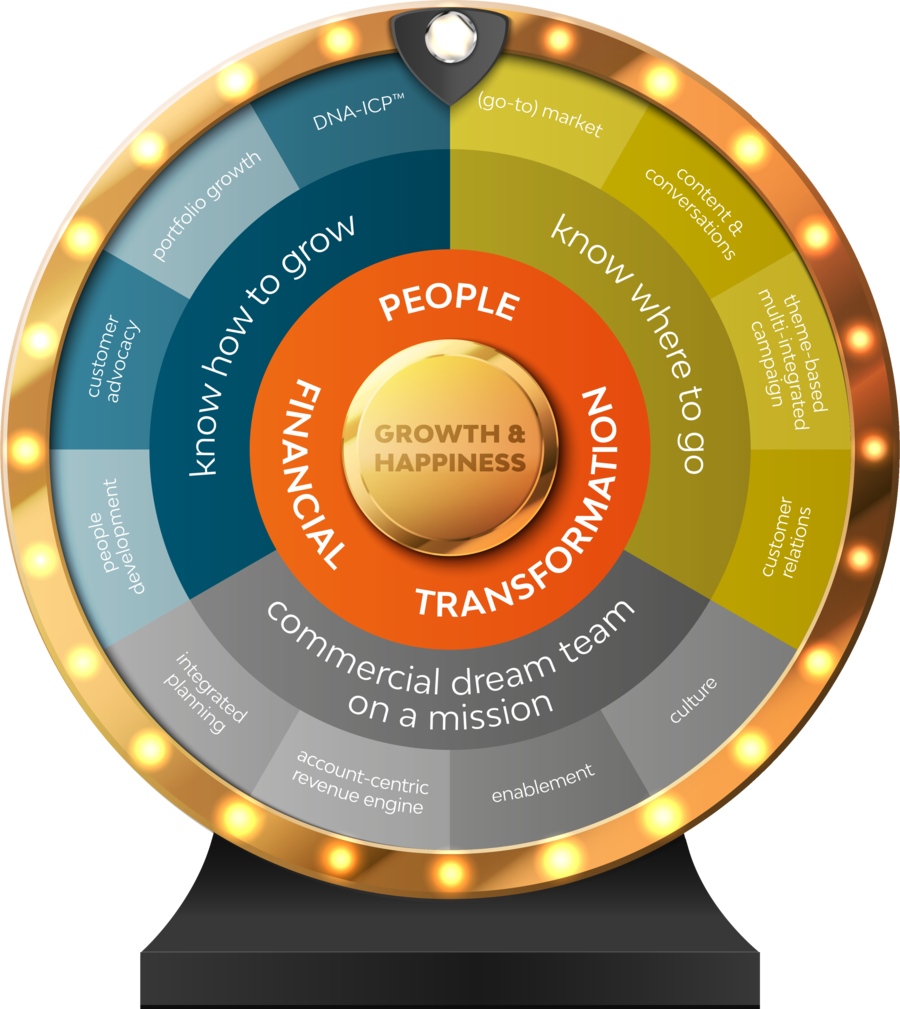 Step 1
Analyse
Current situation, challenges and what it costs
Step 2
Foundation
(re)Building the foundation for future growth & scaling
Step 3
Implement
Processes, methodologies, frameworks
Step 4
Adopt
Educating the team & coaching
Step 5
Improve
Taking the next steps in IF transformation model
A unique mix
of services to
play the game different
Choosing an unconventional and innovative account-based approach that creates brand awareness and generates recurring revenue growth
Chief Revenue Officer services like unique DNA-ICP™ and account-centric revenue waterfall model
Building and transforming your Sales & Marketing teams to one commercial team on a mission, by slicing the elephant with actionabel initiatives
Actionable, commercial, cross-departmental strategies focused on interlocking Purpose, Go-to-Market and Campaign
People development and coaching to become better every day
Diagnostics, building, adoption, implementation & improvement based on methodologies, processes and frameworks with a fast track to impact
Results with mastering the IF Formula
5x Higher account engagement realizes 533% pipeline increase
By engaging with more stakeholders in the buying group balancing human and digital touchpoints
Work Smart, play better
By adopting the IF Formula that leads to: happy employees = happy customers
83% Win rate with a 5x higher contract value
By embedding DNA-ICP™: your ideal and long-lasting customers
100% Fun & becoming better every day
By developing skills and competences of your commercial dream team
Up to 10x higher Customer Lifetime Value
By putting your purpose and values into action, claiming a topic in the market
One commercial dream team sent on a mission
By transforming siloed marketing/sales teams and metrics to a unified team with joint goal setting and measurement